INTRODUCING MICRODERMABRASION
Crystal Clear Microdermabrasion is the original, clinically proven and celebrated skin resurfacing treatment that offers flawless results for problem skin, pigmentation, lines and wrinkles, scarring and body treatments.
In clinical trials, Crystal Clear Microdermabrasion was conclusively proven to dramatically and visibly improve the texture and appearance of the skin, reducing and smoothing lines and wrinkles and producing more beautiful rejuvenated skin.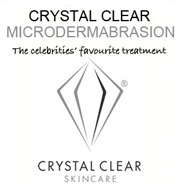 We are OFFICIAL STOCKISTS & a Crystal Clear registered skin clinic.
We offer the full range of crystal clear home retail products.